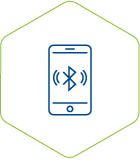 Bluetooth Hands Free Kits
Hands Free Car Kits are the safest way of holding a phone conversation whilst travelling. Being handsfree, it allows the driver to safely ring the caller and carry out a conversation whilst on the move. Hand free car kits are manufactured by Parrot, Nokia, Motorola, Samsung, THB and can be found as part of the specifications for many car audio radio units made by Alpine, Pioneer, Sony, JVC, Kenwood. Parrot hold the biggest market share of handsfree kits with such models as CK3100, CK3000 and the MKi range of kits including the MKi9000, MKi9100 and MKi9200. Parrot also supply the Minikit Slim for a portable Bluetooth solution. Parrot are the most compatible in Bluetooth connectivity followed by Nokia's CK-200 kit which can pair and connect to two phones at the same time.
Many Bluetooth handsfree car kits can be installed in around two hours by Base Systems professional installation engineers. Parrot and Nokia handsfree kits have built in interface or interfaces to connect to the cars existing vehicle speakers and mute the radio. The majority are compatible and have high connectivity with Apples iPhone 3Gs and 4 and nearly all Nokia, Motorola, Sony Ericsson, Samsung and Blackberry mobile phones.