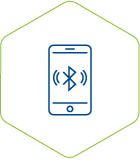 Bluetooth Hands Free Kits
Hands Free Car Kits are the safest way of holding a phone conversation whilst travelling. Being handsfree, it allows the driver to safely ring the caller and carry out a conversation whilst on the move.
Although separate handsfree kits are still available from THB Bury, the most common way of getting a handsfree kit in your car is by installing a new head unit with Bluetooth built in.
Most aftermarket systems now have Bluetooth integrated and most double din units also have Apple CarPlay and Android Auto built in which allows handsfree operation.