Autowatch Ghost II CAN Bus Immobiliser – TASSA Approved
£499.99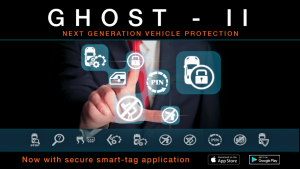 The Autowatch Ghost is the original aftermarket CAN bus immobiliser and is now Insurance Approved by TASSA Accreditation.
For Insurance Approval, the TASSA accredited Ghost II must be installed by a TASSA Approved Installer – We are your TASSA Approved Installer!
Protect your car from theft like nothing else on the market today.
The Ghost protects your car from key-cloning, hacking, and even key theft.  It has no key-fobs or LED indications to give away its location. Ghost II uses the buttons in your vehicle such as those on the steering wheel, door panels or centre console, to allow you to make a unique, changeable, disarm sequence (like a PIN code) that must first be entered before you can drive your car. Just like your credit card but you can make your car disarm sequence even safer by making it up to 20 presses long!
In order to make extreme security also be hassle free, we have created a smart-phone application that connects to your car and allows you to get in and drive without having to enter the disarm sequence. This Ghost-II allows 2 phones to be connected. All you have to do is pair your phone with your Ghost-II, leave the Autowatch Ghost-II application running in the background with Bluetooth enabled and you can drive conveniently and securely. However, remember that if you phone is in range (5m to 10m) and the application is running the Ghost-II will be disarmed.
Search the Apple App Store for Autowatch Ghost-II or click here
Search the Play Store for Autowatch Ghost-II or click here
Features
Immobilisation by communicating with the ECU
Disarm sequence via buttons on steering wheel / dash
No transmitted radio frequency signals
Uses the on-board CAN data network
User changeable disarm sequence
Service / Valet mode means the disarm sequence is never compromised
Secure, unique emergency code should the disarm sequence be forgotten
Mobile application can connect to 2 phones to allow quick disarm
Protection from Key Cloning and Key Theft.
Description
Now Insurance Approved by TASSA Accreditation
Great alternative to a vehicle tracker
Prevents vehicle theft even with the keys
Industry first untraceable immobiliser
No visual signs of installation
Removable for installing to replacement vehicle
Suitable for Audi, BMW, Land Rover, Range Rover, Porsche, Ford, Hyundai, Honda, Nissan and Mercedes models including Mercedes Sprinter Van and others
TASSA Approval Upgrade available at £100 for existing Standard Ghost owners
Please note: Some vehicles require an additional relay installation for full compatability – extra charges will apply.
Enquire about this product